Not unlike the vicious teeth of lyme disease crushing your bones and wasting your brain, the piercing and bitter fadeout of friendships due to chronic illness bite just as hard. 
This has become an interesting learning process, one I never wanted, and sometimes I feel like it's bordering on a cruel social experiment. 
Before I dive into the friendship fallouts, I want to make it very clear that the Good far outweighs the Bad here.  I have an overwhelming amount of inherently wonderful people in my life and they truly humble me. Good I didn't know existed and Good that came out of the woodworks. Good that was there and prevails and continues to do so.  My parents are my pillars of support and I'm comforted that they are only a 2.5 hour drive away.  (Below: a sampling of some of my daily meds. I take about 70 pills daily)
Near and far, my friends (many whom I've never met) have been there for me. The daily or weekly check-ins from across town, country, and even the world always make me smile, especially on my worst days. The selfless gestures of sending me care packages, messages/emails, prayers, and of course the monetary help and support is far more than I could have imagined.  My parents and friends are absolutely the best and you all deserve some kind of award. Your friendship and care is healing in its own way and while I don't always have the energy to respond, I'm beyond thankful for all of you who have been there for me.
"It's amazing how chronic illness turns friends into strangers and strangers into friends."
Not sure who to credit with this quote, but I've seen it a few times now.  It rings true, and luckily in my case the second part more so.  Since being diagnosed with Lyme (and later Rocky Mountain Spotted Fever), strangers or near strangers have reached out to offer support and it's meant so much to me and has honestly been such a saving grace.  In addition to my "real life" friends, whom I absolutely adore, Facebook and Instagram friends have showered me with love and support.  I thank you for being there and for being your inherently good selves. There really is zero possibility of getting through this brutal streak without my parents and friends. I can't repeat that enough. (The meme below rings alarmingly true for people like me and others who suffer with "hidden" illnesses and diseases. Please don't underestimate our suffering)
As far as the first part of that quote goes, I want to mention that while I'm hurt (and I'm allowed to hurt), I'm not dwelling on the small handful of lost friendships. I am understandably disappointed, but at this point, I've accepted the loss, I have mourned it, and am more fascinated by speculating the whys. (I have a lot of time on my hands these days). Knowing these individuals well and for many years, I have my well-educated guesses. I also have two really good therapists to help me along the way. PSA: Everyone should have at least one good therapist in their back pocket. (Below: I attempted antibiotic  IV infusions for a couple months. Didn't work.)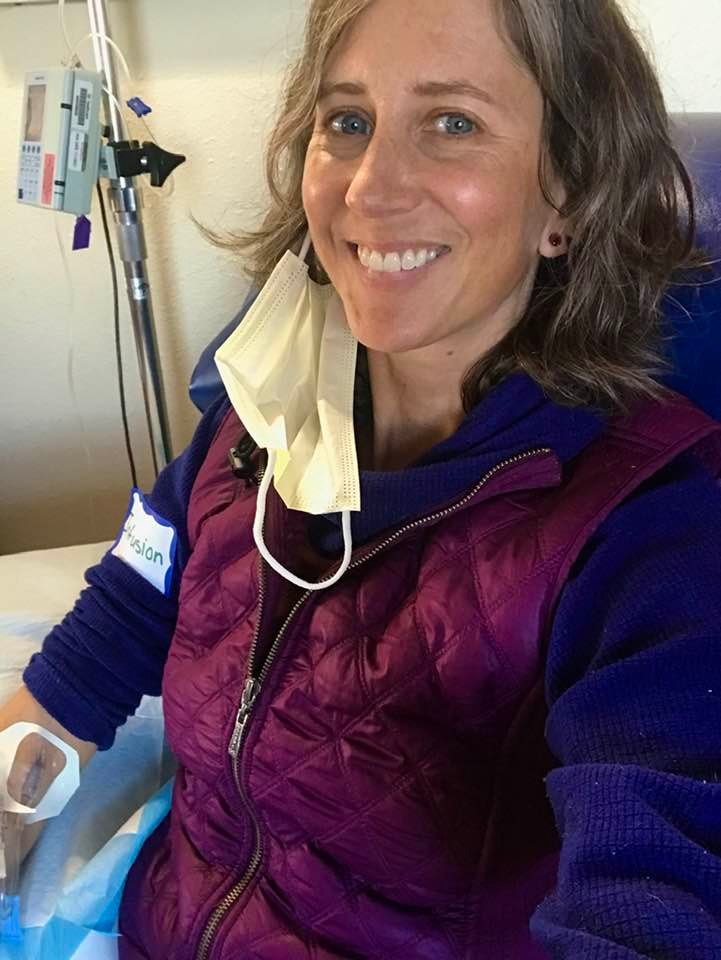 My energy has more important and safer places to be, than directed at someone who clearly cannot show up for me in what so far has been my darkest hour. They may think it's a very sly move on their part, and while it may be a whispered "fuck you" – it's a very loud curtain call. 
I'm vocal about my battle with Lyme, hell, I'm vocal about most of my issues,  and I know some people can't handle that type of vulnerability, especially when, despite having this stupid disease for 11ish years, up until almost a year ago, other than my flare-ups, I've been pretty healthy and high functioning. I've always been very active and fitness has been very important to me.  Treatment is a brutally long process and I guess some people don't have time to wait around for me to feel "normal" again. 
Maybe this drastic downward spiral of my health and fitness level threw some off. I'm pretty homebound and sedentary these days  – getting better and making progress though!, and maybe there's a crowd out there who can no longer relate to me, or it's too uncomfortable to witness this health crisis I'm in. Someone who prides themselves on their health (me) comes crashing down to a pretty damn deep pit of un-health. Maybe they think, "what if that happens to me?" and they don't want to think about it or witness my downfall, so they bolt. I have my somewhat warranted suspicions here. (Kinda gross, sorry. But I developed a DVT…blood clot, almost 12 inches long, from this Picc line, Thanks to the nurses not flushing it correctly and not listening to me when after 3 days in, I mentioned it hurt like HELL – it shouldn't have happened.  Just one more example of medical malpractice and incompetence. And more to add to my medical trauma and PTSD.  I was told it was UNHEARD of to develop a DVT this early on which really makes me more sure that they were not cleaning and flushing it correctly, nor were they listening to me when I was telling them it hurt SO badly so early on…another blog on medical gas-lighting later, probably)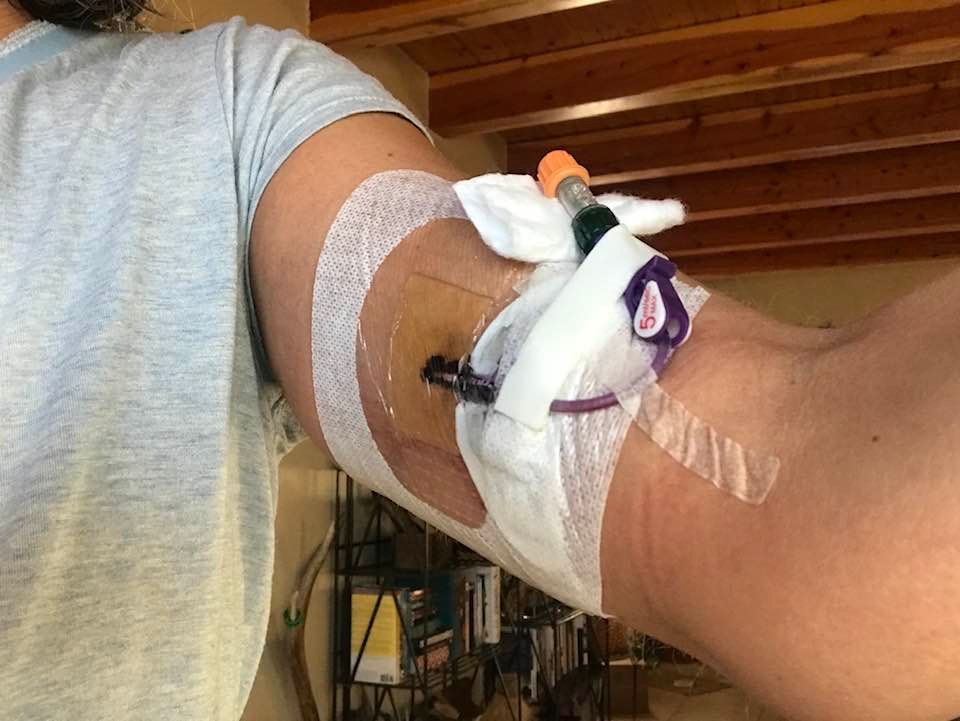 Maybe it's best they do live in a world of oblivion though. People like to think if you eat well, work out, do this trendy thing or that trendy thing, you've got health in the bag.  I am sorry to report from the front lines that this is not the case. You should take care of yourself, of course, and take advantage of that, because you could get bitten by some asshole tick(s) like me and millions of others and have all that just ripped out from under you. So no, you don't always have your health or your fitness, so it's best not to get cocky about it. 
When I look in the mirror, I hardly recognize myself.  I see some twisted disguise I don't approve of, but I know to most, I don't  "look sick."  Really, sometimes I wish we (Lyme patients) looked much worse than we do – maybe then this disease would be given some serious attention if we looked even half as bad as we felt. Read: We feel like a train repeatedly has hit us most of the time. 
It's hard when I hear people say that I look "good" or "better."  I know this is meant well, but it is frustrating because: you can't SEE hearing loss. You can't SEE my debilitating back pain. You can't SEE the fact I can only feel half of my body. You can't SEE my two day migraine. You can't SEE that I was throwing up from pain the day before or that I spent 17 hours in bed. You get the idea.  (Below: Having a grand time getting infusions)
There's a reason why they're called hidden diseases. So for those inclined to take this view, judging us and/or our illness level on how we look –  I recommend you do some reading about chronic, neurological Lyme disease. Or read my posts. I've been vocal about my health issues even before I was diagnosed, and especially after.  Or hey, resort back to friendship times and  ask me a question once every couple months.

Or ghost me like a coward and live with that. At this point, I don't even care, because I have real things to deal with and real friends who care about me.  (Below: Ptarmigan Torpedo holding some of my meds hostage)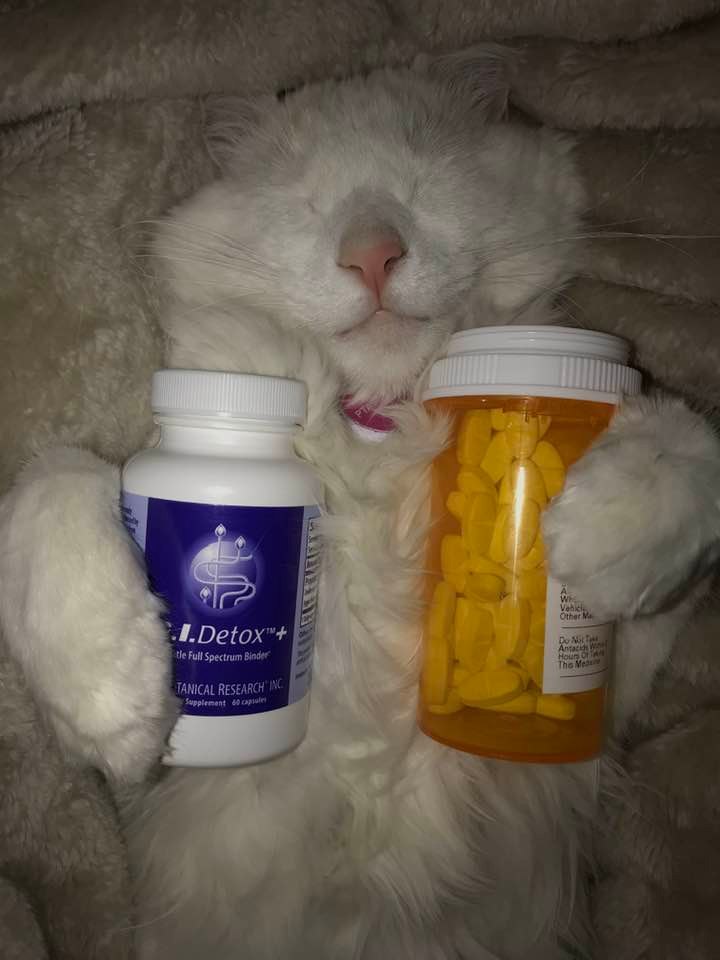 Is Chronic Lyme not glamorous enough for you? Ticks are disgusting little shits, so maybe it's not. Not as big-name an illness as you're used to? You know someone who had Lyme and they're all fine now, eh? A damn tick shouldn't make you this sick? Or maybe it just boils down to simple selfishness or a truly grotesque level of jealousy about the attention that someone is getting for being sick. Maybe people are just too busy with their own lives to worry about my life falling apart. Friendship was easy for all those years and it's no longer fun or convenient. 
It's alarmingly easy to give off a false sense of empathy to the social media community.  But avoidance, denial, apathy, ignorance? If you're just pacing through this life in a world lived through virtue signaling, thinking people won't notice… I'm not surprised to see certain people slip through the cracks. 
Again, my energy and my heart have more important and productive places to be.  Is it devastating to lose those friendships? Of course.  Do I value those who have been there for me more than wasting time debating with those who have the inability to support me? I do. 
I've lost so much through this whole process of being sick, and I definitely didn't think that the loss of friendships was going to be included in that pile of casualties.  Focusing on self preservation is critical in my path to health, and part of that is realizing who I can count on in my most vulnerable moments.
While I've lost, I've also gained so much respect for people who have shown up for me. And that's the most important part of this.  Thank you again to my support network.  I love you and respect you and I hope health remains on your side.    (Below: Thanks, Ross! for this hilarious, gross,  but almost cute tick stuffed animal!)